Choosing a shower - what are my options?
 That early morning splash that helps you kick off the day (at least until you get some coffee into you); a nice rinse after a hard workout or match; a refreshing end to the day before you hop into bed-your shower is a valued member of every household. That's why it's so important to put the shower power in your own hands, sometimes literally, when it comes to choosing the right one for your setup and lifestyle.
So, the big question is, what are the options, and what are the benefits of each? Read on to find out.  
Fixed shower
A fixed shower is the standard, solid option that's been helping keep Aussies squeaky clean for decades. These trusted fixtures include a non-adjustable shower arm that sticks out of the wall. These fixtures are simple yet effective, like those old Nokia brick phones everybody had before smartphones came along. Fixed shower heads don't have a bunch of extra knobs and bolts, giving them a clean design that looks great. Another bonus is that the fixed option often offers a large spray area, meaning you'll stay warm throughout the whole shower!
Adjustable shower
An adjustable shower is similar to a fixed shower except, and this might come as a shock, you can adjust the angle of the arm and the shower itself. With just a few twists you can loosen it up and move it, better suiting adult shower-takers of different shapes and sizes. That means easier angles for washing. Since the adjustment parts are up near the head, this is probably best suited for grown washers who can reach and adjust. Keep this style in mind if you and your partner live in a one-bathroom home.
Overhead shower
You know those sweet showers at hotels that make you feel like a rich person? With your own overhead shower you might be able to channel a bit of that lavish lifestyle every day. Sometimes known as rainforest or raindrop showers, these prime pieces look stunning, and the increased number of nozzles gives you the feeling of washing under luxurious rainfall. These are excellent for your ensuite, bringing a bit of class to your cleansing.
Rail shower
Rail showers bring form and function for the whole family. With easy height adjustment and a detachable hand piece, you can quickly clean the kids. Bring it down to their level when they're toddlers and use it through their youthful years after rough and tumble days at the playground with little mates or out on the pitch during busy sport weekends. And when we say it's good for the whole family, we mean the whole family - even the furry four-legged ones! Give your pups a wash to keep them healthy and feeling fine.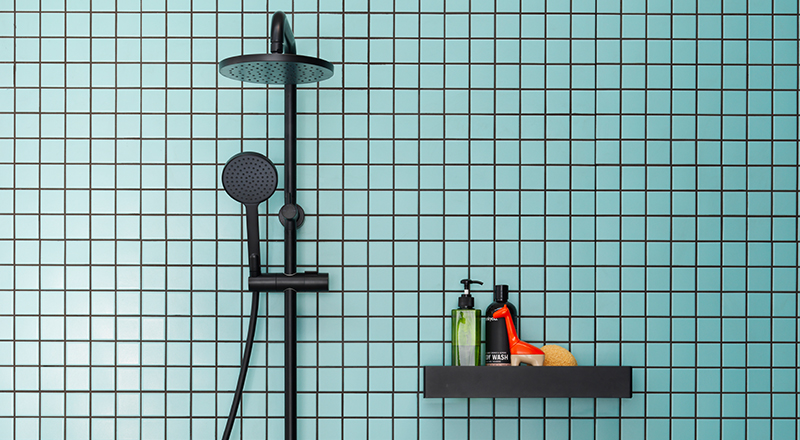 Hand-held shower
Sometimes less is more. A hand held shower is a smaller fixture that brings big cleaning ability. These fixtures can be great for those who find themselves getting their hands (and arms…and legs…and, well, everything) dirty at work or out in the yard day after day. Not only this, but a handheld shower can also be your best friend when it comes to cleaning the shower area itself. Go with a striking matte black finish and add an extra cleaning dimension to your washing space.
From fixed to flexible and everything in between, check out the showers on CLARK today and get ahead on finding a head that suits your home. Hit up our where to buy section to find your nearest CLARK stockist!