Getting down and dirty with plumbing talk.
When you decide to renovate your bathroom you'll probably come across a whole bunch of terms that make no sense and leave you questioning your own existence…
Don't panic. Ignore the urge to drown out the sounds of "mixer installation" and "water flow rating" with a literal waterfall playlist. Having a bit of insight into the plumbing world can be useful as it'll help you pick out the right products for your bathroom and might even allow you to have a decent conversation with Alan, the plumber your mum recommended.
Taps.
On your search for the water god of the bathroom you're probably going to hear the terms "mixer tap" and "three piece taps" thrown around. These are the two most common tapware installations and chances are, if you went into your bathroom right now, you'd have at least one of them installed.
A mixer tap has one handle, (usually a lever handle) and you control the water by swinging the lever between hot to cold. Three piece taps have a separate hot and cold handle to turn. Both styles of taps can be mounted through the bench or basin but have different installation requirements. Mixer and three-piece taps can also come in the wall variety, which are more common in baths and shower installations. 
A good tip to remember is that your basin and tap need to match for installation. A basin mixer can be installed through the bench or mounted through a 1-tap hole basin. However, to install a three piece basin set, you will need to purchase a 3 tap-hole basin.
For those of you who are more visually inclined, here is a basin and three piece tap combo that we prepared earlier: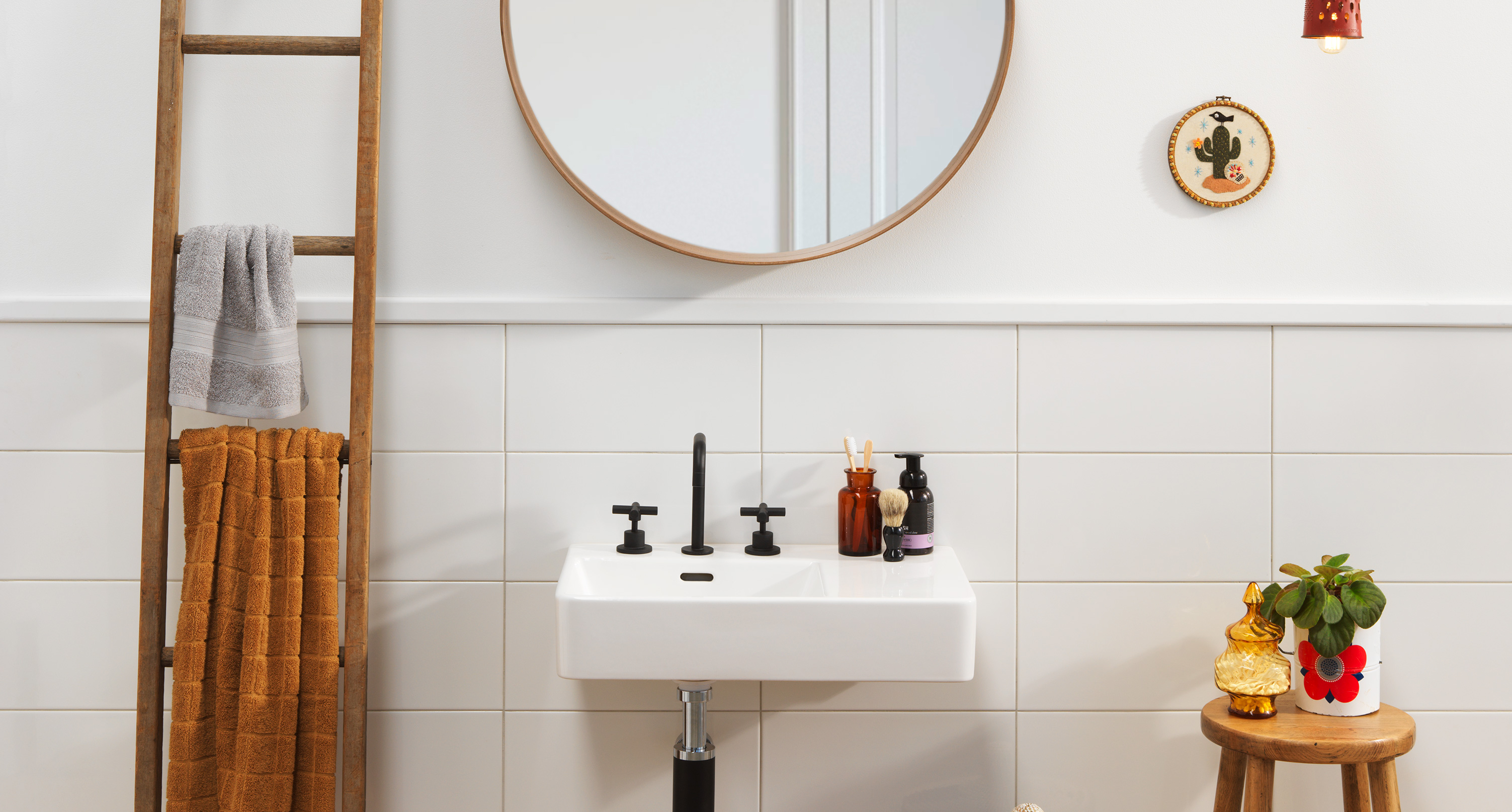 The deciding factors on tapware will usually depend on your personal preference, budget and potentially your existing plumbing.
WELS Rating.
The WELS rating will be a common term you will come across when choosing tapware, showers and toilets. WELS stands for Water Efficiency Labelling and Standards (WELS) scheme. Appliances and taps must be registered with this scheme and labelled with the correct water rating information. This star rating will help you make an informed choice and tell you how much water you are using per minute. You might even get a nice surprise the next time you see your water and electricity bills!
Basins.
It's common for people to mix up the term 'basin' and 'sink'. They're the same thing right!? Not quite! An easy way to tell them apart is by what room they're installed in. You'll find basins in bathrooms and sinks in kitchens (and laundries).
There are four main types of basins to choose from:
Inset Basin – A basin that is cut into the benchtop.
Semi-recessed Basin – This basin is partially installed in the benchtop, but part of the basin juts out from the bench.
Above Counter Basin - This style of basin sits on top of the benchtop. It's also known as a vessel basin or bench-mounted basin.
Wall Basin – These basins are fixed directly to the wall and don't require a vanity for installation.
Basins can come with no tap holes, 3 tap holes or just 1 tap hole. Similar to what we said a lifetime ago in the taps section, you want to make sure that the basin you order has the correct number of tap holes for your tap installation. It'll save you time, money and potentially a disapproving look from your plumber if you get it right the first time round.
WaterMark Certification.
WaterMarks. No, we're not referring to the ring of death that showed up on your new coffee table that one time you forgot to use a coaster.
The WaterMark Certification is both a term and symbol you will need to recognise when choosing taps and fixtures for your home. All fixtures, taps, plumbing and drainage products must have a WaterMark Certificate as it's a mandatory certification for plumbing and drainage products to ensure they meet the standards for installation in Australia.
Basically, if a tap or fixture doesn't have a WaterMark logo on it, it can't be installed in Australia and you should drop it like it's hot! Or alternatively, place it back down gently and move on to another product.
Baths.
Whether you use them for soaking, wine drinking or just as a towel hanger (we don't judge!) you can't deny that a bath can be a major focal point of a bathroom. When looking for a new bath, there are three main bath designs you can choose from.
Freestanding Bath – This type of bath is mounted on the floor and has 'free' space around the bath.
Back-to-wall Freestanding Bath – This bath looks a bit like a freestanding bath but can be installed up against the wall so there is no gap between the wall and back edge of the bath. This makes cleaning easier and is also a great style to choose if you don't have a lot of free space.
Built in Bath – As the name suggests, this bath is 'built in' and requires carpentry work and tiling to surround the bath.
They all have different features and one may work better in your space than another, so do a bit of research and pick whichever suits your bathroom the best.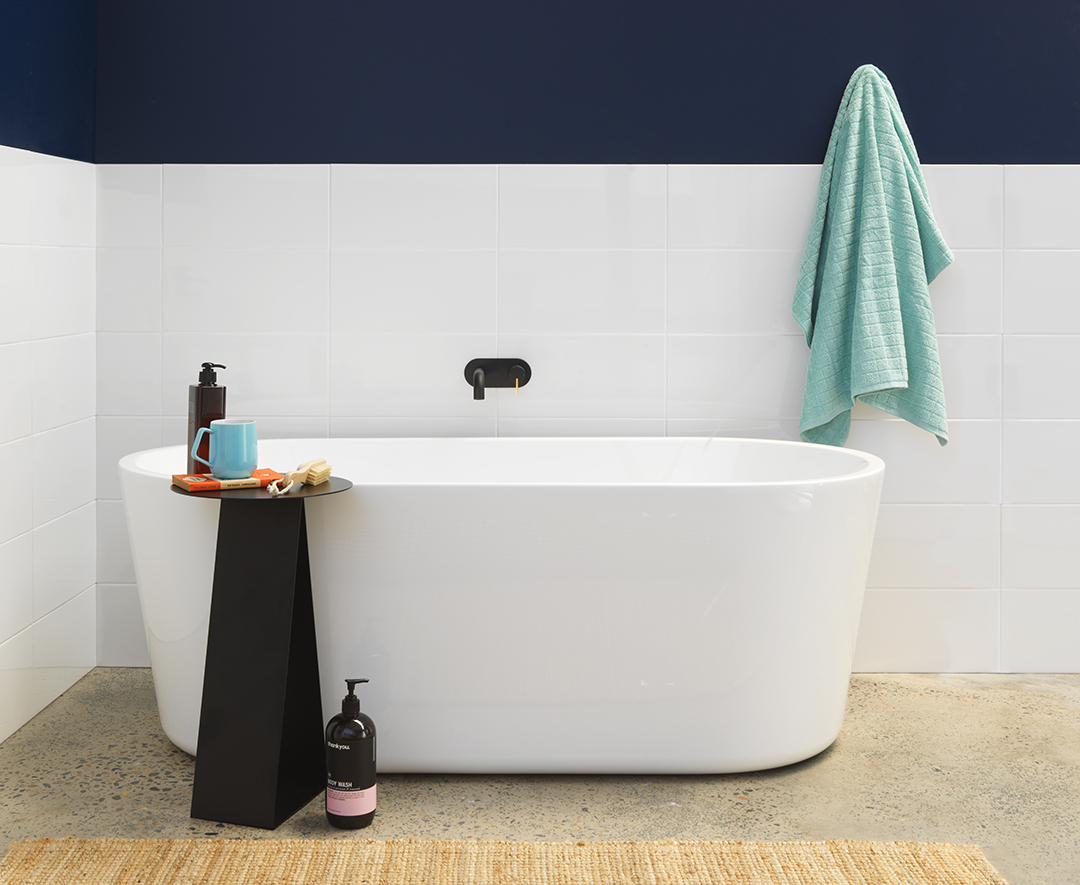 Toilets.
We have arrived at the throne of the house! Everyone's favourite kind of humour – the toilet.
Toilet suites can sometimes be overlooked, but they come in a variety of styles to suit your bathroom. They can be minimal, with an in wall cistern and wall hung pan, or they can be your more 'everyday variety' with a visible cistern attached to the toilet pan. A back-to-wall toilet suite is a popular choice, as it conceals all the plumbing and makes it easier to clean.
Toilets can have the waste connected through the wall (known as a P trap) or floor (known as an S trap). It's important to check the plumbing measurements of where the waste for the toilet comes out, to ensure you choose the right toilet suite that will work with your plumbing.  You'll also need to know the location of the water inlet as this will determine whether you need a 'bottom inlet' or 'back entry' toilet suite. A bottom inlet has the water fed from a stop tap outside the toilet pan; a back entry toilet suite will have the water connection inside the top of the cistern.
Hopefully, you learnt something new that you can use in your next reno. If you're hungry for more information, check out our FAQ page or have a chat with your local plumbing supplier.